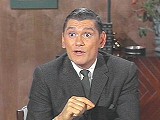 In a variation on the usual spell put ON Darrin, Endora puts a hex on Darrin's Timex, giving him total recall and the power to TICK everybody off in the process!


Utilizing actually very little magic but standing strongly on its own with fabulous dialogue, snappy editing and wonderful characterizations by all, this sophisticated episode expertly builds tension between all the characters as Darrin's newfound memory runs amok (scoring Dick York yet another triumph with his slightly possessed performance here.) Between Louise finding ways to play the dutiful wife (all the while rolling her eyes), Larry's exasperation ("So now it's our fault, huh?!"), Cynthia Penneybaker's laugh-out-loud sighs and Ed Penneybaker's dampened ego, all four actors (Kasey Rogers, David White, Grace Albertson, Dan Tobin) are hilarious in all their quiet subtleties. Liz and Dick are terrific as they show many dynamics together and apart: Samantha maintaining her dignity throughout, showing appropriate disapproval and embarrassment at Darrin's behavior (check out her icy look to him as she exits his office with Louise and Ed!) and Darrin honestly seeming confused at all the flack he gets for remembering their "first quarrel" (a great scene!)



This episode has its feet firmly planted in reality: Unlike the Sargent years, the writers during this period often have Darrin and Samantha quarrel, with their arguments escalating sensibly like it would between any married couple. This is integral to the characters, especially Samantha, as it keeps her on an almost human level and therefore more identifiable to the audience. Also setting her apart from many early sitcom wives, Samantha (never the pushover) is strong enough to talk back to her husband and no more than in her deliciously threatening, "Don't you raise your voice like that to me!" Of course they make up and their "I love you very muches" are very sweet in all their cute sincerity. It's moments like these which make "Bewitched" more reality based than we suspect.


FAVE QUOTE: Sam: "He asked you for the power?"
Endora: "No, no! He thinks he's doing the whole thing with that little pointed head of his."

GUEST STARS: Dan Tobin appeared in the film version of "How to Succeed in Business Without Really Trying" around the time this episode aired.

LOOK FOR: Liz's hair changes in all her close-ups in the opening scene.

© Review Copyright 1997 by SCOTT VIETS