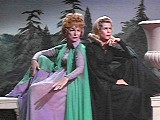 One of the best! A wonderfully touching episode exploring how things "might have been" if Darrin and Samantha had never met.


Serving as companion piece to "What Every Young Man Should Know" (Episode #72) while also harkening back to elements of "I, Darrin, Take This Witch Samantha" (Episode #1), director R. Robert Rosenbaum ingeniously creates with this episode a nonexistent moment in time as if it were permanently frozen within a tiny snow dome. Next to William Asher, Rosenbaum may well be one of "Bewitched's" finest directors, always making the episodes he helms unusal and fantastical. Perfectly balancing comedy with drama while integrating witchcraft seamlessly with mortal life, he certainly knows how to tug at our heartstrings in his fondness for bringing the strong love between Sam and Darrin to the forefront. A strong love that doesn't need to be tested by anyone -- except Endora!


Undermining her own daughter's confidence and happiness, Endora, has a hard time winning any brownie points for this doozie, especially when gleefully asking an obviously saddened Samantha, "Are you convinced Derwood is happier without you?!" An unnecessarily painful dig. Though we know (and accept) her ill feelings towards Darrin, it's less forgivable when it's directed at an already vulnerable Samantha. Yet Agnes Moorehead (as usual) makes it all believable and even at times, strangely effective.


Dick York plays his "Playboy That Never Was" perfectly, finding the fun in it while still managing to convey his underlying unhappiness while Liz Montgomery turns in a heart-wrenching performance. Playing a character as strong and confident as Samantha usually is, Montgomery is sometimes at her loveliest when showing Sam's sadness and even fear at the thought of ever losing Darrin. Giving strong support are several of the guest stars who appeared in the pilot in the same roles: Gene Blakely returns as Darrin's barfly buddy, Dave. Paul Barselow reprises his Al, the Bartender role. And of course, Nancy Kovack as Sheila is always a deliciously wicked treat.


If you ever have the time, watch this one on tape and rewind the scene at the bar where Darrin and Sam "meet." Classic "Bewitched!" Liz and Dick's every expression, every line reading, every thought is perfectly realized, actually making us believe they're meeting for the first time. Liz
is especially interesting to watch here as we see Samantha, knowing what the stakes are, helplessly try to salvage what she's in danger of losing. And if you don't get a lump in your throat when Sam is left sitting at the bar alone after she thinks Darrin has left for good...

FAVE QUOTE: Darrin: "Are you meeting someone?"
Sam: "I'm not sure... I may be too late."

OOPS: Downtown New York City with lots of open blue sky and ... mountains!

© Review Copyright 1997 by SCOTT VIETS