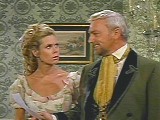 In 1968, before the advent of video and the popular run of movies shown on television, if you had a favorite movie you absolutely loved you would have to wait for it to be re-released in theaters after a 15-20 year absence before seeing it again. With that in mind, it's no coincidence that this episode arrives on the heels of the first MAJOR re-release of MGM's classic "Gone With The Wind" into theaters in early '68 since its initial release in 1939!


Long after "Gone With The Wind" and before "The Carol Burnett Show," this episode pays a nice homage to the classic film with Samantha being sent back in time circa 1868 to fight off the amorous advances of a wonderfully sexy and comic Jack Cassidy as "Rance Butler" (get it?!) With marvelous production values sporting a previously unseen "New Orleans" set, beautiful costumes and gorgeous furniture pieces, Liz is delightful in playing what turns out to be basically THREE different roles here: Sam, Serena and 1868 Southern Lass. Always wonderful at capturing whatever period she happens to play in, it's fun to see Liz switch back and forth between the three roles, with especially Serena being a stand-out in a cool, sexy, vampish way.


Besides the talented Jack Cassidy, Barbara Morrison arrives to play the supremely wicked witch, Brunhilda -- a far cry from the snooty mortals she usually plays in other "Bewitched" episodes (#60 & #211) and "Malcolm" seems totally opposite of what you'd expect that little "Wolfette" to want to fool around with but hey, at least he's cute as a bird -- (watch the bird obediantly stay on Liz's shoulder -- it's amazing how even ANIMALS seem to be charmed by the lovely Miss Montgomery!)

GUEST STARS: Jack Cassidy, married once to Shirley Jones and the father of David and Sean Cassidy, was a major Broadway star ("She Loves Me" and "Maggie Flynn.") Isabel Sanford, of course, goes on to stardom in "The Jeffersons."

FAVE QUOTES: Rance: "What are the neighbors going to say... an attractive bachelor like myself harboring a young girl under my roof?"
Jenny: "They gonna say you're the most generous, the most kindest gentleman there is."
Rance: "MY neighbors?!?!"
Jenny: "Well, who cares what they no-accounts say?!"

LOOK FOR: That's Melody, Liz's stand-in, exiting through the front door after Sam posts the note.
Not to be out-done, Dick lets HIS stand-in climb the trellis in that initial climbing shot.

OF INTEREST: Notice when Darrin says to Serena, "My wife's in "The Twilight Zone," it's an interesting reference considering both Liz and Dick appeared on that show!

© Review Copyright 1997 by SCOTT VIETS