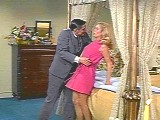 The following program is Rated "TVMA" and contains non-stop references to sex. Parental Discretion is Advised.


"WOO! WOO!" This one certainly sneaked past the censors in 1968 with its sex-obsessed storyline and nudge-nudge/wink-wink innuendos. Looking more like a lost episode from "Three's Company," complete with blonde (Sam), brunette (Serena), and the horny guy (Darrin), as well as racy dialogue (Darrin: "Relax, honey. It's just you and me and Mother Nature." Sam: "That's some Threesome!!!) the only thing missing here are "The Ropers!"


At a time when T.V. shows strained to be "hip," this episode is a virtual Love-In, paying homage to all things 1968: Serena, having traded in her guitar for a Sitar, has become a meditating flower child ("The Guru is a Groove!"), Endora seems to have been moonlighting with "The Mod Squad," (Endora: "It's a groove!" Sam: "A GROOVE?!" Endora: "I keep up!") and Sam's hemlines seem to be rising higher than, well... Darrin's frighteningly soaring libido! Taking a cue from "Tate's famous tete-e-tete" Darrin thinks he needs a second honeymoon but from his leering and aggressively sex-maniacal attitude here, it seems a good hosing down would be more in order.


Although quite comical with some great bits (Darrin being turned to bronze is cleverly done; Serena "cleaning" the house while reading is cute!) and even some funny suggestive jokes centered around the bed (the "Out of Order" sign, the bed of nails) one can't help but shake an uncomfortable feeling in seeing an unwilling Serena have to literally protect herself from Darrin's over-zealous "sexy" (?) side, which as evidenced here, just might be better left...unseen!

GUEST STARS: Fifi D'Orsay (Madame Ouigare) was a top movie star in the 40's who also made her Broadway debut in Stephen Sondheim's "Follies" in 1971, introducing the song, "Ah, Paris!"


LOOK FOR:A creative touch -- Before turning the first magazine page over magically, Serena actually LICKS her finger!

OOPS:Moonthatch Inn here is supposedly the quiet little cottage where Darrin and Sam spent their first honeymoon. Although in Episode #1, the honeymoon spot they stayed in was obviously a large, four star Metropolitan hotel.

© Review Copyright 1997 by SCOTT VIETS