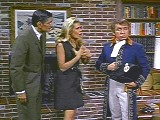 Uncle Arthur needs to stop hanging out with Aunt Clara and Esmerelda ... their bungling of spells is beginning to rub off on HIM! Intending to zap up a Napoleon dessert, Uncle Arthur instead conjures up ... guess who?... Napoleon himself. Just when we're about to ask "How could
this happen?" Darrin beats us to it and Samantha ends up explaining something about "ectoplasmic manifestations" and "kinetic vibrations zonking across the atmospheric continuum" and suddenly, if not a little frighteningly... it all makes perfect sense -- even if the idea of Uncle Arthur making silly goofs (ala Aunt Clara) doesn't quite ring true to character.


Unfortunately, the explanation (though intriguing) was more than necessary: With the passing of Marion Lorne four months earlier, some pretty big shoes needed to be filled in the "witchcraft gone awry" plot deparment. With a year to go before the introduction of Esmerelda, Uncle Arthur has now been nominated to be suddenly forgetful and mistake-prone. Although it works okay enough, you can't help but feel a bit sad at seeing this warlock who was known to have "equal power" to Endora now be reduced to pooped-popper status.


Henry Gibson makes a fine Napoleon with his heavily accented Zoom commercial scene a funny bit. Other highlights include Louise flirting across the table with the little Half-Pint, Samantha telling Darrin to "go away!" before he discovers the zapped Nap and a quasi-behind the scenes look with the actual "Bewitched" soundstage (equipment and all!) used for the Zoom commercial scene.



©Review Copyright 1997 by SCOTT VIETS