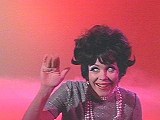 Serena wreaks havoc when she engages Boyce & Hart to sing at her Cosmos Cotillion, prompting Darrin to ask "what's a Cosmos Cotillion?" and anyone under forty TODAY to ask "what's a Boyce & Hart?"


Unwittingly resembling what may be one of television's earliest infomercials, this is Screen Gems' 30 minute valentine to one of its most successful songwriting teams ever: Tommy Boyce and Bobby Hart. Responsible for many of "The Monkees" hits ("Last Train to Clarksville," and the famous "Monkees" theme) Screen Gems decided to reward B & H (and self promote at the same time) with a little on camera coverage in hopes of manufacturing yet another popdom sensation.


But despite their charming performances here, appearing in this episode may have actually done the talented duo a disservice: was it really wise to have the plot revolve around making the group so UNPOPULAR that no one wants to hire them except Serena? And as much of a kick as it is to see Miss Liz up there shakin' her booty in the Living Room A Go-Go, hearing Montgomery introduce their latest rock and roll wannabe hit is...uh...well...best left up for the viewer to decide.


Actually very entertaining, this remains one of "Bewitched's" most popular episodes. With lots of action, you'd swear the show was longer than 30 minutes due to just how many scenes are employed (in spite of Nick at Nite's sly scissoring!) Highlights include: Larry flirting with Serena in the opening; Sam zapping Serena's guitar away before it crashes down on her and Darrin's heads (very well done!); and yes... BOTH renditions of "Blow You a Kiss in the Wind" -- each absolutely fabulous in its own kitschy way.


GUEST STARS: Boyce & Hart wrote over 300 songs and sold over 42 million records! (Rolling Stone Magazine) The song heard in this episode, "I Wonder What She's Doing Tonight" was a Top Ten hit for them in 1967 as not just songwriters but performers as well. They also wrote and sang the title song to Columbia's 1968 movie, "Where Angels Go, Trouble Follows!"

MELODY WATCH: As Samantha, she shows her face big-time to the camera as she follows Liz's Serena from the kitchen into the dining room!

GERALD WATCH: He's the uniformed security guard keeping fans at bay by the stage door.

LOOK FOR: Thinly veiled reference to drugs when Serena says she's going to take B & H on a "long, long trip," they excitedly ask, "A trip? On what?!"
The guys and ghouls at the "Cosmos Club" are actually leftover footage filmed for Samantha's coronation in "Long Live the Queen," #108, two seasons earlier.
B & H's manager, Chick, dates the show by stating that his clients are "booked every Saturday night now until 1976" (!)


©Review Copyright 1998 by SCOTT VIETS