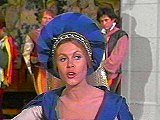 Quite possibly one of the most famous of all "Bewitched" episodes (people always seem to remember this one) this is a wonderful and creative two-part opener for what turns out to be the last season. Once again borrowing from "I Love Lucy" and recognizing the success and fresh plots that came with last season's trip to Salem, Asher and Co. heavily promoted "Sam and Darrin's European Vacation" during the summer reruns thereby, unlike Salem, not needing much explanation as to why they're there.


Actually a very funny episode with pretty good production values, everybody in it is marvelous all the way from Aggie (looking rested and obviously relishing every word she utters) to Sargent (who rises up to Aggie's level and is downright hysterical here) to Ronald Long (playing his usual "Giant-King-Santa" role) and especially Arlene Martel as that Hateful Witch, Malvina. Looking like something out of a Tim Burton movie, Ms. Martel is perhaps one of "Bewitched's" scariest guest witches ever and her incantation is wickedly executed and worthy of rewind.


Which brings us to Miss Liz. Oh dear, dear Liz, what happened? Looking like she wants to be anyplace but here, Miss Montgomery has returned this season as if under a spell that has made her forget how to play Samantha. Sporting less energy (not to mention less make-up), the character
of Samantha now seems slightly bored and annoyed and it's almost unsettling to watch this sudden decline. Especially evident because unlike past "time travel" episodes ("Darrin the Bold," "Sam Goes South for a Spell," "Sam's Old Salem Trip") where Liz expertly played "period" by adopting a different stance, voice and attitude, here she doesn't even try to be anything close to 1542 England. Rolling her eyes and doing excessively huge takes, Liz is funny at times and the song she sings is a beautiful highlight but in picking up the lute, she's dropped the ball only to have a gleefully QUACKING Aggie and Sargent run away with it.

FAVE QUOTE: Darrin: "I'm supposed to kiss a perfect stranger? What's to stop her from slapping me in the face?
Endora: "Fortunately ... nothing!"


GUEST STARS: Laurie Main (Tour Guide) appeared in many big budget movie musicals, including Julie Andrews' "Darling Lili" and Barbra Streisand's, "On a Clear Day You Can See Forever."
Victor Rogers (The Nobleman from the Painting) played Carol Channing's dance instructor, Gregory, in Julie Andrews' "Thoroughly Modern Millie."


LOOK FOR: That old "Harpies Bazaar" prop is trotted out yet once again!

© Review Copyright 1997 by SCOTT VIETS