IRENE BYATT
---
Irene was a Betty only a few times, seasons 6 and 8.
Betty's generally are petite, with their cute little voices, cute hair, and do just as Larry and Darrin ask. This Betty breaks all those office rules with a deep voice, and the audacity to tell Larry his wishes are a little odd!
Things to know about this Betty:
• As noted in Irene's appearances list below, this Betty has appeared in other Bewitched episodes. Funny how Darrin didn't notice his own secretary was on the flight to Salem, Massachusetts with him!
• This Betty enjoys a well balanced meal full of protein, including orange juice, bacon, eggs straight up, sweet rolls, and coffee.
• Irene has appeared in 4 episodes of Bewitched. The odd part is is that her name is spelled differently in some episodes. For instance, she is credited as Irene Byatt in "Darrin the Warlock", and Irenee Byatt in "The Salem Saga".
Episodes featuring Irene Byatt:
#181: "Darrin the Warlock" See Picture
#225: "Samantha's Psychic Slip" - Not as Betty, but as the woman with the mirror

Episodes featuring Irenee Byatt:
#203: "The Salem Saga" - The confused passenger on the airplane See Picture
#247: "Serena's Youth Pill"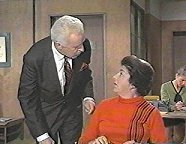 "Mr. Tate, why do you want to know
what I had for breakfast?"
Irene Byatt in Bewitched #181:
"Darrin The Warlock"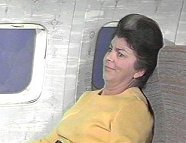 Spooked by Endora flying
on the wing of the plane
Irenee Byatt in Bewitched #201:
"The Salem Saga"