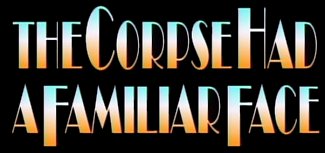 Liz with Lee Horsley
Crime reporter's life dramatized in movie
by Brigitte Greenberg
Associated Press


Pulitzer Prize-winning reporter Edna Buchanan isn't upset that a CBS movie based on her book, "The Corpse Had a Familiar Face," doesn't even remotely resemble her nonfiction work.


After all, it's not as if her book about a Miami crime reporter's most infamous cases has a happy ending: It's about murder, murder and more murder.


"Those murders that go unsolved, the missing people that stay lost, the corpses that you can never identify, no matter how many clues you unearth, they tend to haunt you," Buchanan said as she visited a set in Southern California that doubles for Miami in the movie.


Not that the TV drama necessarily has a happy ending but at least the mystery is solved. The two-hour movie, which carries the same title as Buchanan's book, airs Sunday at 9 p.m. on Channel 2.


"In fiction, you can wrap up the loose ends, you can solve all the perplexing mysteries, and Edna Buchanan best of all, you can write the ending," Buchanan says.


Rather than follow the many homicide cases detailed in the book, executive producer Robert M. Sertner took Buchanan herself and made her wit, grit and charm the focus of the drama.


Sertner says Buchanan's sense of irony was a major part of what attracted his production company to the project. "We're so stuck In the mold right now of true crime and ripped-from-the-headlines kind of stories that when you find a story like this, that has a woman that looks into the window of that world, yet retains a nice light, comedic tone to it, it's a nice plus, he says. And if actress Elizabeth Montgomery, best known for her role as Samantha in the 1964-72 TV comedy "Bewitched," captures Buchanan's personality in her portrayal, that alone may be enough to carry the show.


Buchanan is a character. As a reporter for The Miami Herald for 18 years, she worked the police beat in all Its bloody gore, covering more than 5,000 violent deaths, 3,000 of them homicides. In 1986 she won the Pulitzer in the general news reporting category for 10 unrelated police beat stories.


Despite the macabre subject matter that made her famous, Buchanan and
her tales are droll. The scriptwriters tried to capture her spirit in the show's single case, about a father (Lee Horsley) searching for his missing teenage daughter.


Original air date: March 27, 1994.

Supporting cast:
Dennis Farina as Harry Lindstrom
Yaphet Kotto as Martin Talbot
Lee Horsley as Ben Nicholson
Audra Lindley as Edna's Mother