Patterns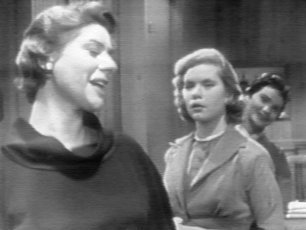 Corporate politics gnaw away at new hire Fred Staples (Richard Kiley) as his tenderhearted colleague, Andy Sloane (Ed Begley), is belittled, berated and bullied by the company president (Everett Sloane). Fred stands idly by as Ramsie & Company gobbles up Andy's last shred of pride. And, when all is said and done, the tragedy that results surprises both the corporation and its belligerent founder.


Patterns included a few young, up-and-coming talents: writer Rod Serling (age 30) and the beautiful Elizabeth Montgomery (age 21).

Original live television broadcast January 12, 1955 on NBC's Kraft Television Theatre.

Back to Pre-Bewitched Roles